Manufacturing best quality colorants since 1992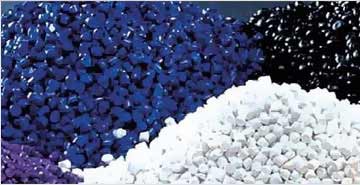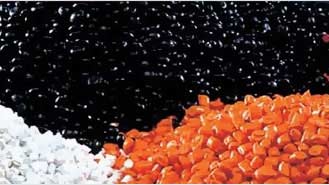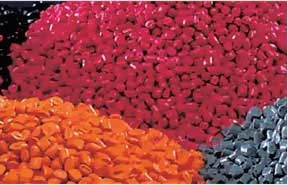 Home » Black Masterbatches
Black Masterbatches
Black Masterbatches are used in an extensive range of products due to its properties like UV protection, jetness and conductivity to name a few. We deal with masterbatches ranging from 25% to 50% Carbon loading.
Higher surface area leads to increase in both jet Ness and UV resistance as more surface area will be available for absorption of both the visible and UV lights. With the tendency of Carbon Black to form aggregates, also known as structure - the performance of black Masterbatches primarily depends on the dispersion of carbon black in the carrier resin. We use specialty additives and processing aids, which causes carbon black to get easily and uniformly dispersed in a carrier resin. Thus it gives optimum performance in the final applications. We manufacture carbon black Masterbatches containing up to 50 % carbon black content in them.
Our range includes:
Diamond Black Masterbatch
Universal Black Masterbatch
Jet Black Masterbatch
General Purpose Masterbatch
Product Grades
Carbon Loading
Application
Jet Black
40%

Garbage Bag
Shopping Bag
Automotive Molding
Injection Molding
Blow Molding
Mono Filament
Rotational Moulding
HDPE Pipe
Cable

Super Black
50%

Critical Film Application
Product Details :
| | |
| --- | --- |
| Minimum Order Quantity | 100 Kg |
| Usage/Application | Films - Milti & Mono Layer, Extrusion Coating Films, Thick and Thin Wall Injection Moulding |
| Material | Plastic |
| Color | Black |
| Form | Granules |
| Usage | Cast Film / Blown Film (Mono & Multi-Layer) / Extrusion Coating Films / Sheet & Pipe Extrusion |
| Pack Type | Bag |
| Brand | UNIVCOL |
| Packaging Size | 25Kgs |
| Packaging Type | Bag |
| Pack Size | 25 Kgs |
| Country of Origin | Made in India |
| Application | Moulding / Film/ Cable/ Filament / Automobile / Profiles / Pipes |
ARticle gets good strength as you are not adding any non-virgin material like masterbatch.

Masterbatch is not virgin, as it has passed through heat & shear process while manufacturing.

Pigment particles are coated uniformly.

During this process, pigment is not passed through heating cycle as it is processed under 110C.

Rotopre pigments given more gloss and optinum strength of pigments, as we remove the air & water which is biggest opacifier.

It also eliminates the process of Extrusion.
So, here processor saves approx Rs 10 per KG directly.

Natural pulverize polymer gives more production than precolored material & hence reduce the production cost.


Product Details :
| | |
| --- | --- |
| Usage/Application | Plastic Industry |
| Material | Plastic |
| Form | Powder |
| Uses | General Plastics, Engineering Plastics |
| Packaging Size | 25 Kgs |
| Product Type | Pigments |
| Color | Red,Yellow,Black |
| Packaging Type | Bag |


©
Universal Masterbatch LLP
. All Rights Reserved (
Terms of Use
)
Developed and Managed by
IndiaMART InterMESH Limited